Copper recycling machine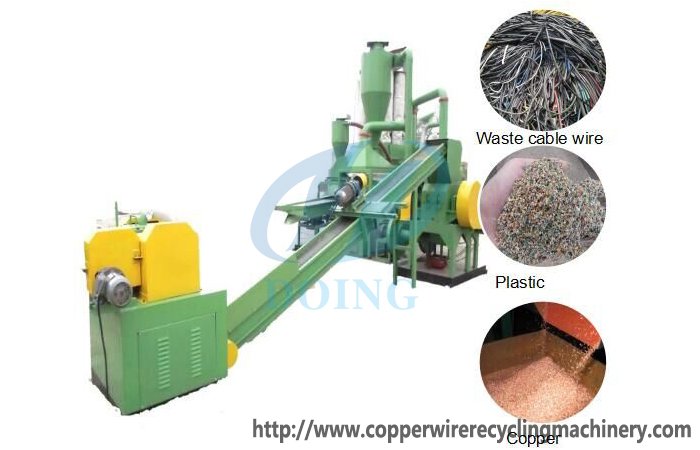 Henan Doing company copper recycling machine is the equipment that separating the scrap wire metal and plastic. Because the final products are similar to rice particles, so this copper recycling machine is also called copper wire granulator.
Henan Doing copper recycling machine can completely separate the copper and plastic, and realize the integrated utilization. Further, the wire recycling machine has the features of higher economic benefits, no dust and no secondary pollution.
Copper recycling machine raw material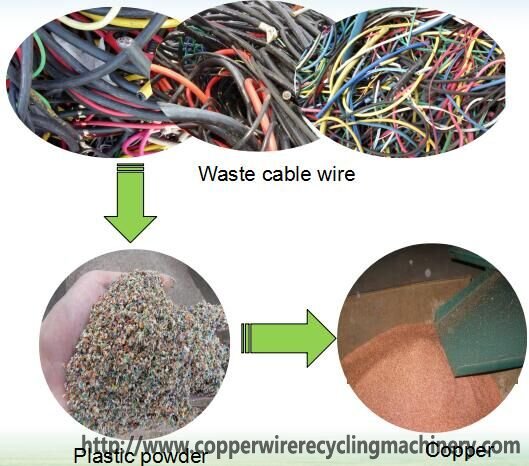 Copper recycling machine is a kind of waste copper cable wire recycling machine, this machine can process telephone wires, computer wires, automobile wires, tele communication cables, etc
Copper recycling machine working process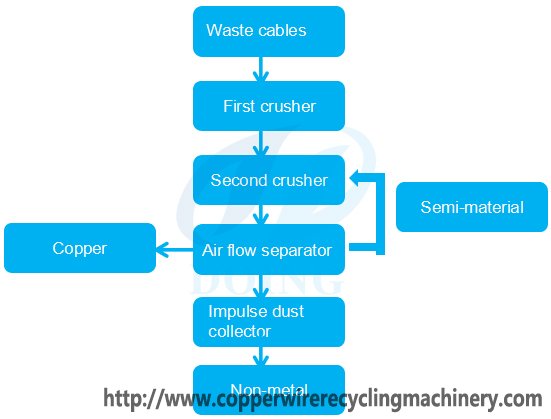 Working process of copper recycling machine
When directly put into the copper recycling machine, used cable is cut into granules first, during this process, copper and plastic is separated but mixed together, then the granules are sent to vibration device for separation, through wind blow and vibration, the copper and plasticis are separated, then pure copper comes out fromone side and pure plastic comes out from the other side, we collect the separated pure copper and non-meatal.

Copper recycling machine technical data
| | | | | | | |
| --- | --- | --- | --- | --- | --- | --- |
| Item | Model | Capacity(kg/h) | Power(Kw) | Size (m)(L*W*H) | Weight(T) | Remark |
| 1 | DY-400 | 100-200 | 28.5 | 3.5×1.5×3.0 | 1.8 | |
| 2 | DY-600 | 300-500 | 36.5 | 4.0×1.7×3.0 | 3.0 | |
| 3 | DY-800 | 500-800 | 90.0 | 4.5×1.5×4.2 | 7.7 | Doubling crushing system |
| 4 | DY-1000 | 800-1000 | 104.2 | 4.8×1.8×4.2 | 9.4 | Doubling crushing system |
Copper recycling machine feature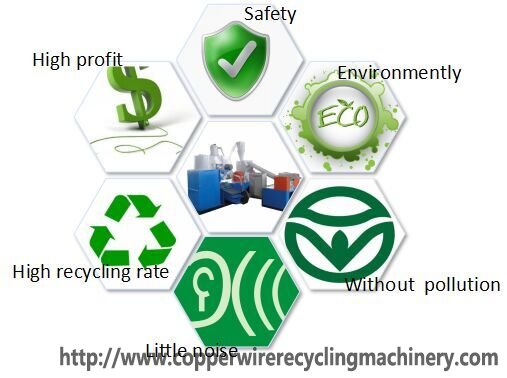 Feature of copper recycling machine
1.Suitable structure and layout, easy to install.

2. PLC system makes it easier to control the whole line, convenient to feed and operate.

3. The design of separator and dust collector is handy for movement or transport.

4. The rotor of the grinder is alternating, leading to more efficiency, faster discharging, low noise and steadier running.

5. Feedback system will do the second crushing to the unfinished material, which guarantees the total separation of metal and non-metal.

6. The separation rate of air separator can reach at least 99%.

7. Dust collector can prevent the leak of dust. The dust cleaning rate can reach 99.99%.


Copper recycling machine final product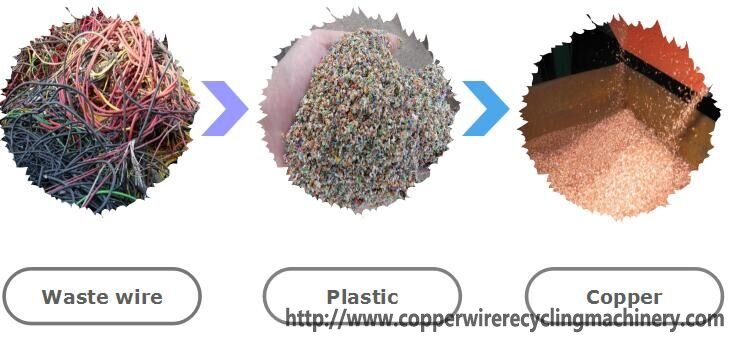 ---
If you want to get more information and offer of the equipment,leave us message online,we will reply as soon as possible !