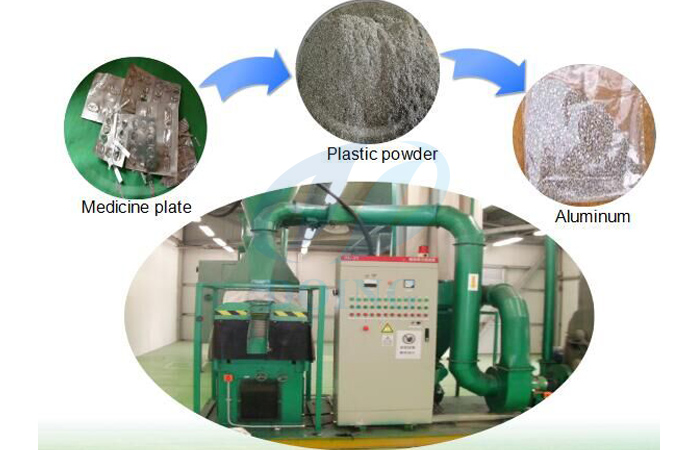 Aluminum plastic recycling process machine
Aluminum plastic recycling process machine is mainly used to separate the effect of aluminium and plastic, commonly used in all kinds of poly (ethyl aluminum plastic plate, poly aluminum chloride, aluminium tubes, Aluminum-plastic caps, automobile decorations).
The working principle of aluminum recycling machinery is to use the combined action of the specific gravity difference of sorted minerals, alternating movement of bed surface,and transverse oblique water flow and riffle (or notch groove), to allow loose layering of ores on the bed surface and fan-shaped zoning. Then different products can be produced.

Aluminum recycling process?


Aluminum plastic recycling process machine working process
Firstly, by hook the car send a lot of materials into crusher, repass secondary crushing and tertiary grinding powder decomposition, and then through the sieve after the decomposition of the finished material through six roller electric machine one-time separation, separation of plastic and metal.
---
If you want to get more information and offer of the equipment,leave us message online,we will reply as soon as possible !