Copper wire recycling machine
Copper wire recycling machine produced by our company use the advanced reasonable mechanical recycling technique. They can be used to scrap all kinds of waste cable,wire, iron separating by magnetic, plastic and copper separating by vibration, thus can result the effect "no plastic in copper and no copper in plastic".

How is copper dispose by copper wire recycling machine?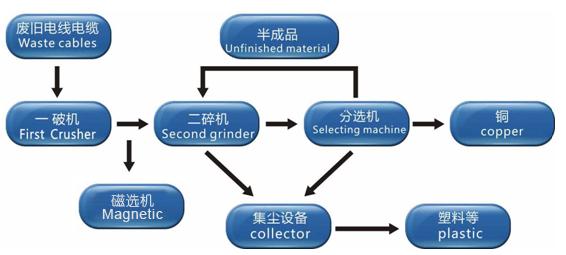 Copper wire recycling machine working process
First ,we put the waste copper wire into the copper wire recycling machine ,waste copper wire cable is cut into granules first, during this process, copper and plastic is separated but mixed together, then the granules are sent to vibration device for separation, through wind blow and vibration, the copper and plasticis are separated, then pure copper comes out fromone side and pure plastic comes out from the other side, we collect the separated pure copper and plastic.
---
If you want to get more information and offer of the equipment,leave us message online,we will reply as soon as possible !