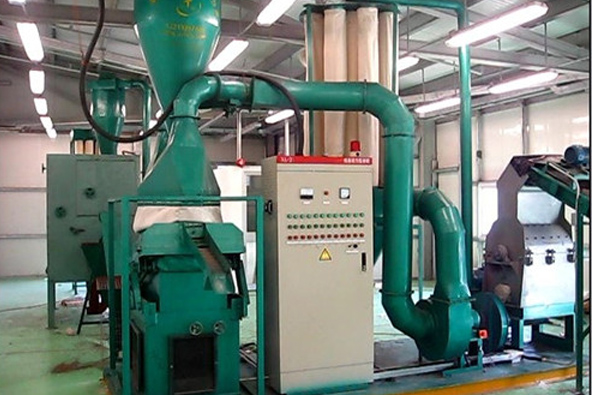 Scrap copper wire recycling machine
Industrial waste copper wire recycling machine specific raw materials that can be processed mainly include :crushing and sorting of various waste wires, sorting of broken copper, aluminum and iron of copper aluminum radiator. Industrial waste copper wire recycling machine are configured to make the metal recovery rate close to 100%. Basically, there is no copper in plastic and no plastic in copper after be recycled.

Industrial scrap copper wire recycling machine structural feature:
1. Integrated structure design, compact structure, small occupied area, easy to move and it can be operated by putting it on flat ground and turning on the power .
2. It adopts PLC control, the appearance is simple and beautiful and the operation is simple. One operator can operate it.
3. As an important part of the separation of copper wire and plastic, gravity separation adopts Italy air suspension separation process, and the vibration frequency and material suspension air supply device can be adjusted precisely according to different materials.
4. Crushing system adopts SKD-11 alloy cutting tool, the processing hardness is HR58. It can ensure the high-wearing resistance as well as a certain tenacity of the crushing blade. The structure is designed as splayed alternate shearing structure, the shell of wire grinding equipment adopts water cooling system, thus avoiding, material heating and melting after long time operation.
5. The operation of the complete set of equipment is fully enclosed, it is equipped with an advanced pulse dust removal system that effectively collects dust in the production process and discharges it from the dust outlet.
6. In view of the fact that the copper wire crusher manufactured in other countries can recover the copper with a purity more than 99.5%, but 3-5% of the copper powder and brushed copper will be lost into the plastic in the sorting process, our company is equipped with electrostatic selection equipment, the remaining copper in the plastic can be sorted out again, so that there is no plastic in the copper and no copper in the plastic.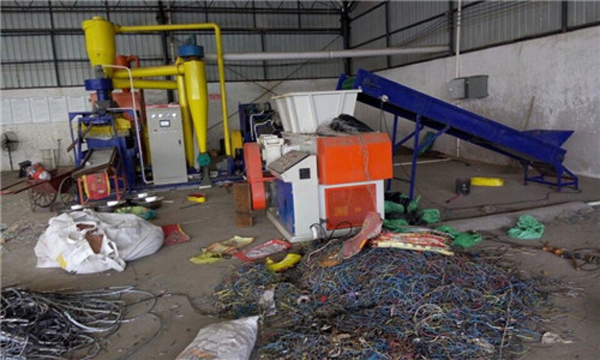 Scrap copper wire recyclinhg machine in factory
The Industrial scrap copper wire recycling machine specific technical parameters are as follows:
| | | | | | |
| --- | --- | --- | --- | --- | --- |
| Item | Model | Capicity(Kg/h) | Power(Kw) | Size(m) | Weight(T) |
| 1 | DY-C-100 | 100-150 | 27.5 | 2.90*2.35*3.50 | 2.0 |
| 2 | DY-C-300 | 200-300 | 60.2 | 4.95*2.35*3.50 | 2.2 |
| 3 | DY-C-500 | 300-500 | 67.0 | 7.35*2.35*4.10 | 4.2 |
| 4 | DY-C-800 | 600-800 | 80.5 | 8.85*2.35*4.10 | 4.5 |
| 5 | DY-C-1000 | 800-1000 | 82.0 | 10.85*3.80*4.10 | 5.5 |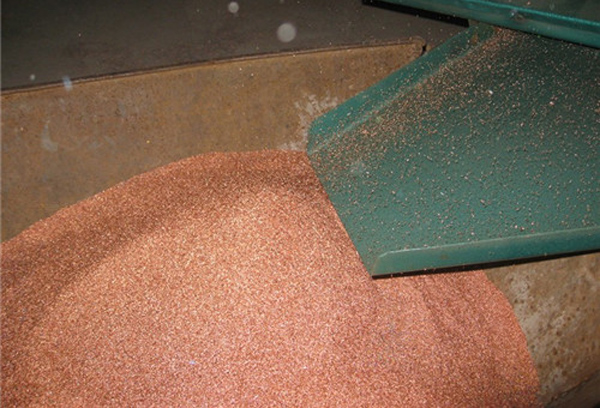 Scrap copper wire recycling final products
Through this form, you can also find that our scrap copper wire recycling machine can not only meet the needs of large-scale industrial models, but also have medium and small models, and can meet the needs of different customers according to the customer's requirements for output.
---
If you want to get more information and offer of the equipment,leave us message online,we will reply as soon as possible !